From: Twin Vee Dual-Console Series – Features, Boat Reviews and Boat Tests – Boats.com.
Three models from Twin Vee combine tried-and-true twin-hull designs with twin-console decks.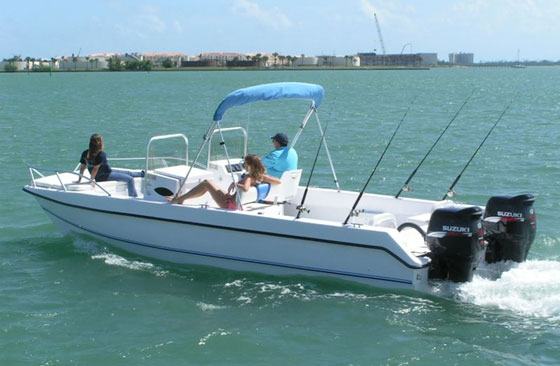 The dual-console layout has grown in popularity in the past few years, so it's no wonder Twin Vee decided to expand its offerings. These make for excellent family-fishing boats, since the second console adds protection for another passenger while the bow area gives the kids their own place to hang out, whether the rest of the family is water skiing or trolling for wahoo.
All are built with the usual Twin Vee construction methods: hulls made of hand-laid woven roving are filled with foam, fittings are stainless-steel, and fabrics are marine-grade vinyl. Fit and finish is not as nice as it is on some competing boats, but that's one of the reasons why Twin Vees carry price tags that are notably lower than most competing boats. Note, for example, that the 22 Bay Cat DC starts at a mere hair over $25,000 with a 90-hp four-stroke Suzuki on the transom.
Most folks buy cats for their ride, of course, and in this regard these don't disappoint. In fact, foot-for-foot they're among the softest-riding boats around. The hulls trap and compress air in their "compression tunnels" as they move forward, and that cushion of air softens landings and reduces drag. That not only means your back hurts less, it also means you need fewer horses to go as fast as a monohull of the same size.