Ameracat 31: Power Catamaran with a Punch
This is a power catamaran built for those of us who want the most LOA for the buck, while placing utility at the top of the priority list. That describes me to a tee, and when I first saw an Ameracat sitting at the end of the dock it was love at first sight. The interior has a simple, easy-to-clean spackle finish; the cockpit is free of junk like transom seats (Shut up and hold on, you can sit down when the fishboxes are plugged); and the console cabin is little more than a cave with room for a Porta-Pottie. Simple, for sure, but completely functional as well.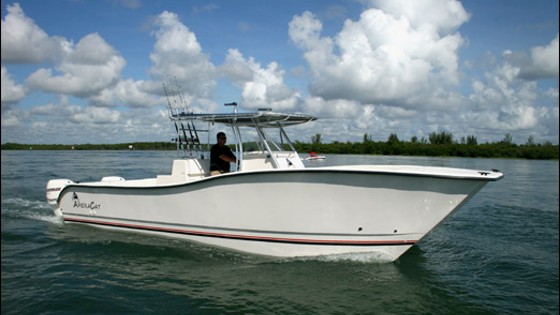 The boat's utilitarian attitude carries over to its construction. This is essentially a gigantic two-hulled rolled-edge skiff, one that can take up to 600 horses on the transom. That's not to say the boat is built poorly, because it isn't. Ameracat doesn't skimp on strength; the hull is laminated with bi- and tri-axial fabrics, the deck is cored with 1.5" thick Airex high-density foam panels, and the sponsons are pumped full of closed-cell foam. That makes for a single structural component, and when we fired up the twin ETEC 300s and raced through a very busy Biscayne Bay at 50-plus mph, the hull crunched over three-foot boat wakes like a fleet-footed slab of granite.
source: http://features.boats.com/boat-content/2012/08/ameracat-31-power-catamaran-with-a-punch/