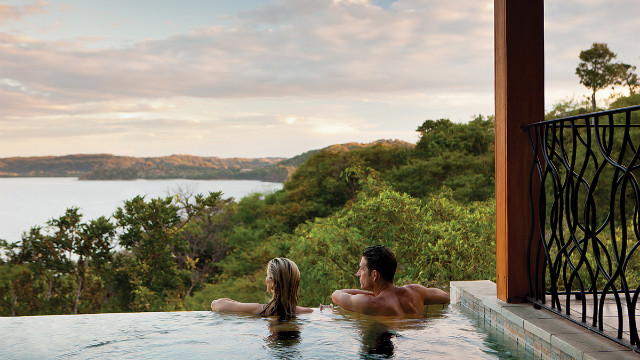 (CNN) — Not so long ago, Costa Rica was a backpacker's game.
Other than a few business-class hotels in the capital of San José and a handful of isolated luxury properties scattered about the scenic hinterlands, travelers could expect little in the way of genuine comfort while exploring one of the most beautiful and eco-conscious countries on the planet.
Over the past decade, however, Costa Rica's fastest-growing crop has been a collection of opulent hotels and resort communities, complemented by marinas, golf courses, gourmet restaurants, hot springs and other world-class facilities.
The tag attached to most deluxe properties is usually something like "ecolodge" or "ecoresort," which may conjure visions of dreadlocks, granola and recycled hemp-fiber sheets.
Don't be fooled.
Yes, most of the country's destinations are green; Costa Rica's Sustainable Tourism Program rewards environmentally friendly properties with one to five "leaves" and copious free publicity.
But Costa Rica's new upscale properties are as elegant and comfortable as any in Latin America.
Here are the best regions and stays for putting a little service and Chardonnay into your sand and scenery.
Click the link to see all the wonderful places: