Twin Vee 35 Hydrofoil: Added Lift, Better Efficiency
Features, Boat Reviews and Boat Tests  from Boats.com
This new powercat from Twin Vee was designed specifically to carry hydrofoils, fore and aft, in its tunnel.
Twin Vee Powercats build some unique boats, and the latest to enter their line-up of one-of-a-kind cats is the 35 Hydrofoil. This boat was designed and built for foils, and with a pair of 300-hp Suzuki outboards on the transom, cruises in excess of 40-mph.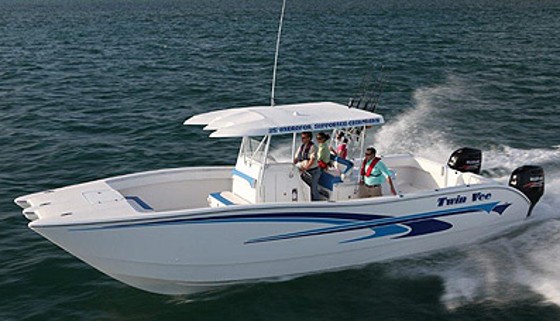 "The fuel and efficiency difference with the hydrofoils is incredible," Twin Vee CEO Roger Dunshee told me, when the boat was introduced at the Miami Boat Show. "We had to design the boat specifically for them and it was quite an investment, but I just can't believe how well it runs," he said.
The foils generate both lift and trim stabilization, and in some cases can reduce a boat's lift/drag ratio from 4.0:1 to 20:1. That additional lift and reduced drag mean you can use smaller powerplants to get the same speeds out of a boat, and one of the first owners claimed that his 35 gets better than three MPG at cruise.
If foils are so darn good, why doesn't every cat builder use them? Design costs are a major reason, but results seem to vary from one model to another, too, with smaller boats seeing reduced benefits. When I tested a pair of 29' cats a few years ago, one with and one without foils, the efficiency gain we measured was under 10-percent.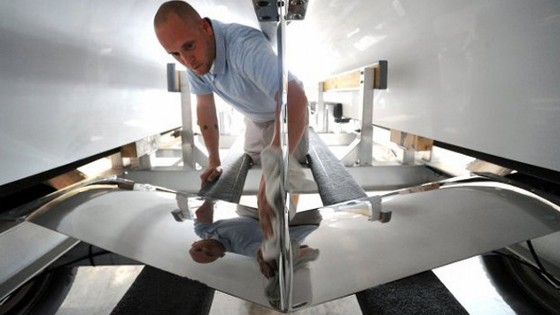 Twin Vee 35 Hydrofoil: Added Lift, Better Efficiency – Features, Boat Reviews and Boat Tests – Boats.com.